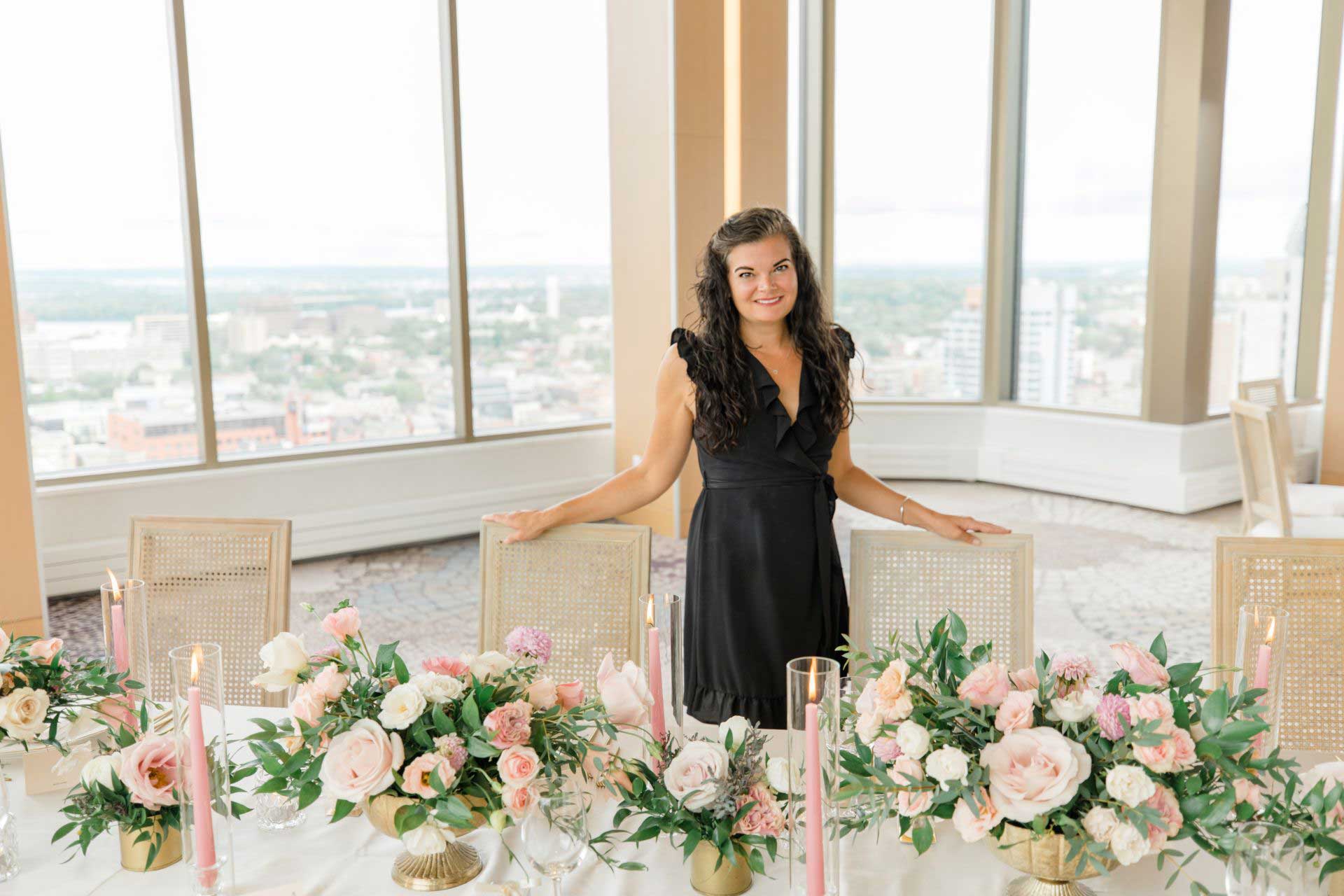 I want you to host the best party you have ever thrown in your life but without the stress and frustrations that typically comes along with it. By tapping into over thirteen years of industry experience and vendor relationships in the Ottawa area, I can turn your happily ever after into a plan!
In your dreams, every detail matters!
Full Planning is my most popular option, this is for the couple that does not have 250+ hours to spend planning their wedding. I am with you from the very beginning stages either taking what you have started planning or beginning from scratch. You get to enjoy the fun parts about wedding planning and leave the leg work to me. PLUS you have a wedding planning expert who has your back for any questions or issues that come up along the way. I am just a text, call or email away!
On your wedding day you get to relax knowing I know EVERYTHING about your wedding and will make sure it runs smoothly. I work with the city's top wedding vendors to create a custom event designed especially for you that is planned to perfection and remembered always!
$6,500 +
Your perfect day come to life!
The "Month Of" Coordination option is for the couple that feels they have the time to plan their own wedding and just need some direction and recommendations and "day of" on-site help.
While I love surprises, I like the weddings I plan to have the least amount of last minute surprises! With two pre-wedding meetings, I help you finalize your plans, make vendors recommendations, organize your "day of" timeline and make suggestions for those last little details. You also get 2 more < 1 hour phone calls to help guide your planning or just ask for more advice.
Ceremony rehearsal and wedding day are executed with precision so you can truly enjoy your greatest day with all the people who love you.
So go on, and dance the night away!
$2,200 +
Wedding Coaching (hottest new option!)
Let me be your coach and biggest cheerleader!
Wedding Coaching allows you to plan your own wedding while benefiting from the advice of an Ottawa wedding industry expert with over 13 years of experience. This option is perfect if you need some help taking the leap from ideas to an actual plan. My intensive two hour coaching session includes a review of what you've planned so far, vendor recommendations and input on your wedding day timeline. I'll be your sounding board to hash out any random questions you might have and follow up with a written summary of everything we covered in another 1 hour call.
I'll save you endless research hours by sharing my curated list of wedding vendors that I have built relationships with over the last 13 years as well as a realistic wedding day timeline where you stay ON TIME all day while having the best day ever.
You can also add-on other services like a site-visit together to walk through your wedding set-up, a review of your style board to make sure you can execute your wedding decor vision, a detailed checklist to keep you organized between now and your wedding day and much more through access to my online planning site. Even if you run into a hurdle and just need someone to talk to and get expert advice, you can just add this on!
As your wedding day approaches, know that your investment in coaching can be applied to my other wedding planning services if needed to pull everything together for your special day.
$550 +
The planning process went so smoothly because you were so easy going, patient, organized and always had great ideas. Anytime I didn't know what I was going to do for certain things you always came up with great ideas, which we used and made our day that much more special.
Erica is a creativity machine who brings to reality a lifetime of planning and wishes for one's wedding day. Above all, Erica was kind, honest, dependable, generous, and always available to us at a time of great stress and anxiety.  Of all the services purchased for our wedding… she was absolutely the one person we could not have done without.
The ideas that she had were just fantastic and she thought of every little detail to make everything absolutely perfect. We told her our vision and she took it from there checking in every step of the way.
First came love, then came a plan.
Deciding on a wedding planner will be one of the biggest decisions you will make for your special day. I am hoping you will say "yes" to me too!
Planned to Perfection, Remembered Always. Follow me on