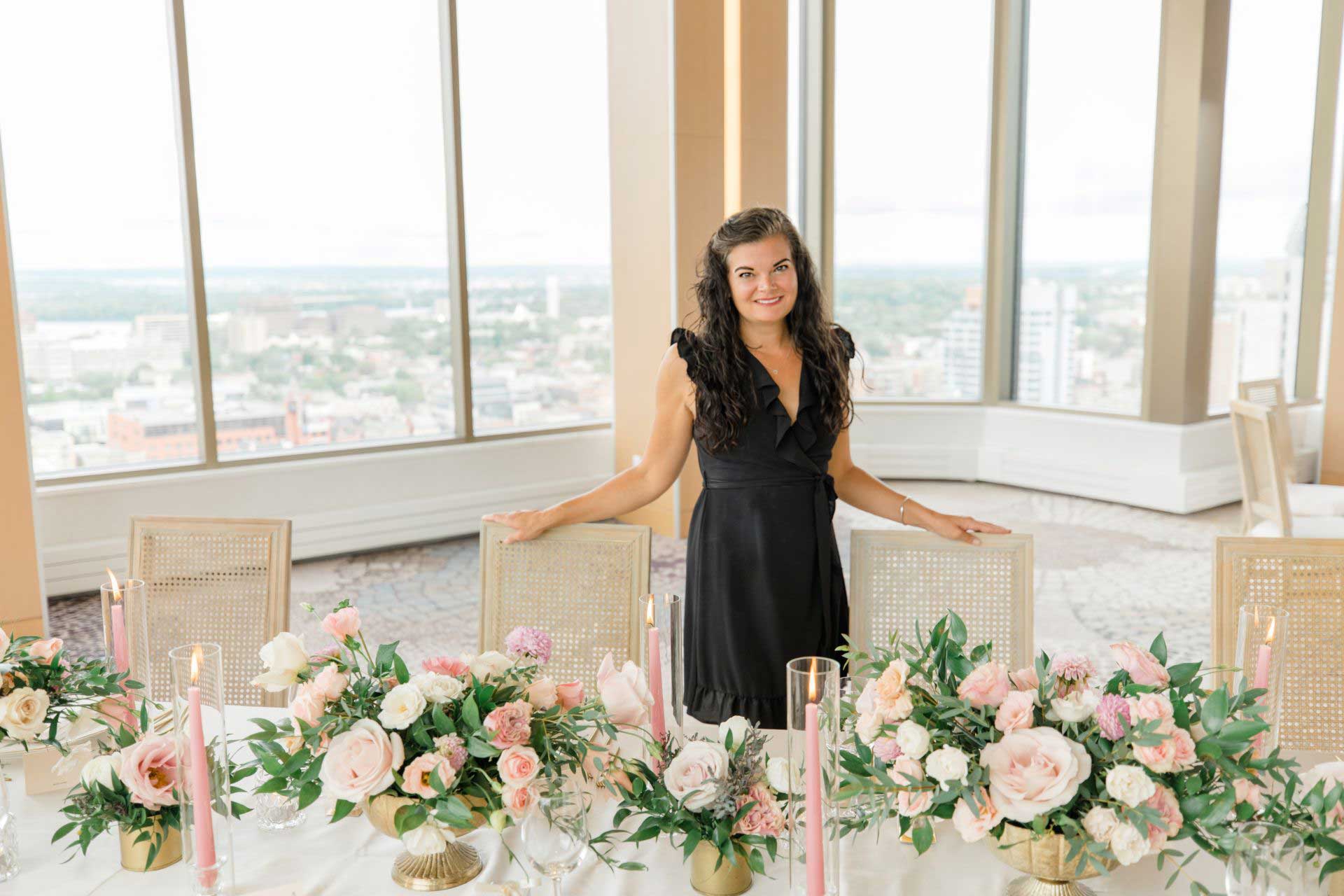 Welcome to Erica Irwin Weddings – Where Luxury Meets Your Love Story
At Erica Irwin Weddings, we understand that your love story deserves nothing less than a breathtaking, one-of-a-kind and incredibly FUN celebration. Led by Ottawa's very own "Wedding Planning Fairy Godmother," Erica Irwin and her caring team, are the preferred and trusted Planners at all of Ottawa's top tier venues. Our commitment to creating beautiful, unforgettable and meticulously planned weddings sets us apart in Ottawa's wedding planning scene.
Your wedding is the biggest, baddest party you will ever throw so you want your guests to remember your day and we also want you two to enjoy every second!
"Erica was our Fairy Godmother and choosing to work with her and her team was the best decision my husband and I made when planning our wedding." – Shirley & Stewart
Your love story is unique, and your wedding should reflect that!
We want your guests to be saying "Oh that's so them!" to every aspect of your wedding day. We specialize in tailoring your celebration to your individual style, preferences, and dreams, ensuring that your wedding feels like a true reflection of your love.
"Our style and needs were adapted to seamlessly! We could not have imagined a more perfect wedding day and no words can truly describe the happiness we felt." – Sophie and André
Wedding Planning can actually be fun!
We will lead you through all the steps that will get you to your wedding weekend feeling ready to soak it all up! Erica Irwin Weddings' team will handle the logistics, coordination, and execution, allowing you to enjoy your day surrounded by your family and friends, knowing we have your back! So go ahead and dance the night away.
"The fact that I knew that the wedding day would go exactly according to plans and schedule helped ease my anxiety, so I could actually enjoy the day!" – Sabrina & Farhoud
Only the best on your biggest day!
We've spent more than a decade building a curated network of top-tier local wedding vendors who know we won't settle for anything but amazing. We'll happily manage and collaborate with every vendor on your behalf to make sure your wedding is simply the best day ever. We want you two, your family and your friends to enjoy this amazing day to the fullest!
"Choosing Erica Irwin Weddings was the best investment we made for our wedding day. We initially started planning the wedding on our own, then realized we needed some serious professional help. All we had to do on our wedding day was show up and have fun! It was truly a dream come true. We highly recommend Erica and her team! " – Alexia & Anthony
A bit about Erica's background…
After graduating from the University of Western Ontario, I worked in high-tech for thirteen years as a Director for one of the largest companies in the world. A girl dreams of being a Wedding Planner, not of working in high tech … well at least this girl.
So in early 2008, I followed my dream and started Erica Irwin Weddings & Events! Over these years, I have built excellent relationships with wedding vendors and venues in the Ottawa area. My carefully curated list of wedding professionals means you will have Ottawa's best on your "wedding dream team". I have also taken care to choose amazing people to work along side me. My team is dedicated to making sure every wedding we plan and execute is beautiful, organized and also your best day ever!  We want to work with you both from the beginning right through to that last tear-filled hug as we say goodbye.
I am a wife, a mom of four amazing kids, a runner, a baker, a gardener and I love to chat! So let's get together for a coffee or a glass of wine and talk about your wedding!
"So, if you want to fully enjoy your wedding day and be genuinely present for your family and friends, hire them!" – Helaina & Sahir
For a Day like no other ….